MAPFRE AM attracts international investment via Luxembourg
This year MAPFRE AM, MAPFRE's asset management firm, has been expanding its strategy to capture international investment, and those efforts have begun to pay off. According to data for the first six months of 2021, compiled by Inverco and published today in the Spanish business and finance newspaper EXPANSIÓN, MAPFRE AM is the Spanish asset manager with the second‑highest asset figure in Luxembourg. Its assets there now total €1.269 billion, which represents an 80% increase compared to the same period last year.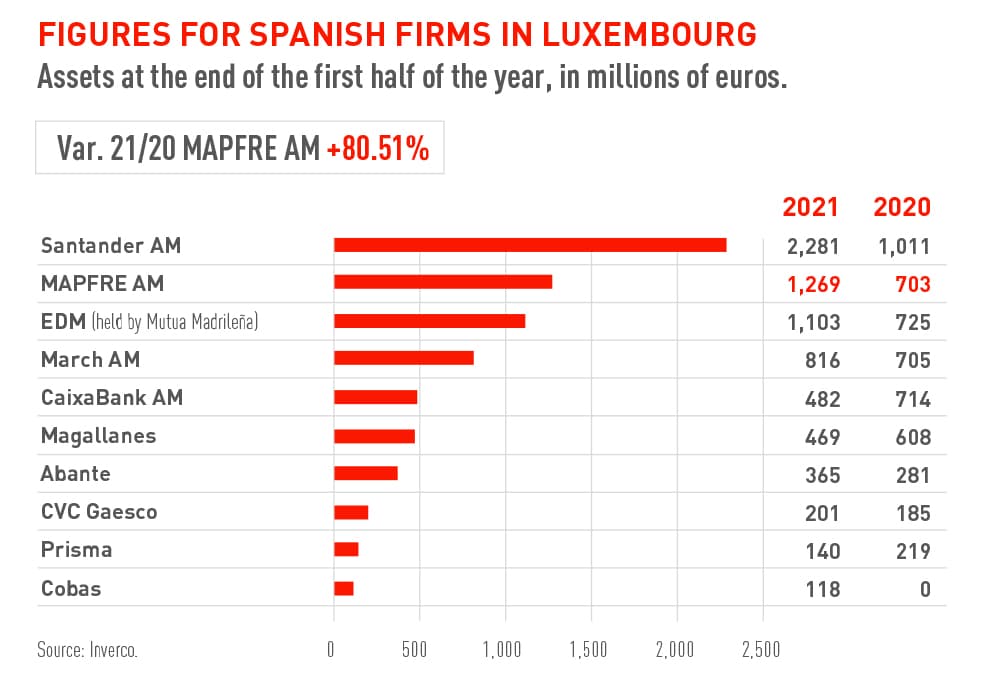 That high level of growth, exceeded only by Santander's asset manager (Santander AM), has been due to a variety of factors. At the beginning of the year, MAPFRE AM merged two global fixed income funds, with the goal of marketing the new fund to individual and institutional investors. The two funds merged were MAPFRE AM Global Bond Fund, a global fixed income fund, and Capital Investment Spain International Fund, which was managed by Amundi since 1993 exclusively for companies from the MAPFRE group. The new merged fund with assets valued at almost €180 million, kept the name of the former became part of the Luxembourg SICAV.
The insurance group's asset management firm established said SICAV (a type of European collective investment company) in 2017, and it now possesses a wide range of funds with a clear emphasis on investments with environmental, social, and governance (ESG) criteria. The ESG funds included in that SICAV have been well received by international investors, and this is another factor that has led to the rise seen in the company's assets during recent months. This has been the case, for example, with the MAPFRE AM Capital Responsable fund, a mixed fund with investment based upon socially responsible investment criteria. It was first commercialized in France and now contains almost €150 million in assets.
The strong performance shown by MAPFRE's investment funds during the first half of this year has also contributed to this growth. One example of this is seen with the MAPFRE AM Behavioral Fund, a fund designed to leverage inefficiencies caused by irrational and exaggerated investor reactions. It has become the best in its class in the first six months of this year, with a one‑year return of more than 55%.
Finally, another key factor that has driven the rise in asset figures has been the success of the Horizonte Investment Program, which has been used to market unit‑linked products that have some of MAPFRE's Luxembourg‑based funds as their underlying assets. That initiative was launched at the beginning of this year, and it provides access to professional management for savings in a manner that can evolve over time in a personalized manner based on each investor's profile and savings objectives.
The positive developments seen with MAPFRE AM's management and professional advisory business has also had a significant impact on the results achieved by MAPFRE Inversión. This is the MAPFRE business area that manages the investment services the Group provides to its customers. It recorded a profit of €21.5 million in the first six months of the year, representing a 26.47% increase compared to the same period the previous year, according to the latest figures published by the Group.