Spanish sports tackle the challenge of attracting international investment
Spanish sports have enormous potential for attracting international capital. However, investment in the industry is still small in comparison with other European countries, and there is still much work to be done. This is one of the conclusions reached at the Marca Business Forum, an event that brought together professionals from the world of sports and from the world of investing. Among those present were renowned athletes such as Iker Casillas, as founder of SportBoost; Marc Gasol, president of the Bàsquet Girona basketball team; and Jorge Garbajosa, president of the Spanish Basketball Federation. MAPFRE AM was also represented at the event by one of its managers, Luis García.
Professionals from these two spheres agreed on their potential to become great allies, because having private companies enter the world of sports could lead to greater transparency and financial capacity for clubs and competitions, and most importantly, it could contribute a degree of professionalism that has sometimes been lacking in the past.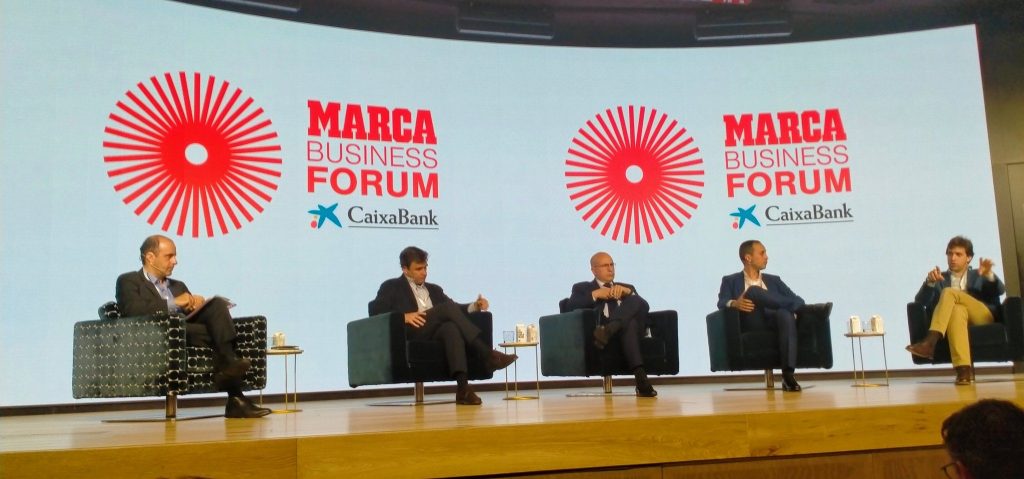 As emphasized by Luis García, sports are an area of business activity that is becoming increasingly complex, given that development and marketing strategies are becoming more important, and teams have increasing numbers of employees on their payroll. There have frequently been cases of financially struggling clubs that have needed shoring up with public funds, such as those collected through television fees, while other teams have seen their debt levels increase year after year. "It may be necessary to shift towards a more sustainable model", García explained during the roundtable discussion, "Challenges and Opportunities for Spanish Sports in Attracting International Investors".
As MAPFRE's AM manager, García believes that Spanish sports are one of the most attractive markets in Europe, because of "the good work the clubs have done in terms of financial control", in addition to their large numbers of spectators and the revenues they generate. This is why it seems "remarkable" that they have attracted fewer international investors than in other countries such as England, France, or Italy. It is therefore essential to raise awareness of the benefits that professional approaches can provide to sports-based companies. This is a subject closely linked to financial education, and it could be helpful if teams began considering an initial public offering, which is something already happening in other European leagues.
García, who manages the MAPFRE AM Behavioral Fund, where 25% of the portfolio is dedicated to the world of sports, believes that the key for success with this model is to look for investors whose profile is "long term, patient, and with a strategy focused on helping the club or league grow". As a financial investor, the MAPFRE Group's asset management firm does not intervene in the teams' affairs, focusing instead on clubs that "are in line with the style we're looking for", with proper management and healthy balance sheets. The specific European soccer clubs with the highest weights in the Behavioral Fund are Borussia Dortmund, Olympique Lyonnais, and Ajax Amsterdam.
In a context where ESG (environmental, social, and governance) factors are becoming increasingly relevant, MAPFRE's AM manager thinks that one of the best opportunities presented by sports is how they will potentially invest in these areas. The history of sports "is one of continual improvement in corporate governance, with an ability to have influence over the others (social and environmental factors) like no other industry in the world", he explained.