Ignacio Amo (MGP) is Rankia's best fund selector for 2023
Ignacio Amo, a MAPFRE Gestión Patrimonial (MGP) professional who joined the team just over a year ago, has been recognized as "Best Selector of the Year" at the 5th RankiaPro 2023 Awards.
Amo received the award on October 27th during the ceremony held in Valencia. "It is an honor and a privilege to receive this award, which should not be individualized to me. It is a true reflection of the capabilities, professionalism and good work of the MGP team," explains MGP's fund selector.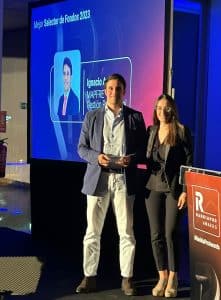 The expert has more than seven years of experience in financial markets, as an equity trader and fund selector at EBN Banco. For the last three years, he has worked as a fund analyst in the 'Operational Due Diligence' team at Santander Asset Management. And since last summer, he has been part of the team led by Miguel Ángel Segura, CEO of MGP.
During the past editions of these awards organized by Rankia there have already been other MAPFRE winners. This is the case of Luis García, manager of the MAPFRE AM Behavioral Fund, who won the "Manager of the Year" award.