Stock markets have officially entered a bear market
On May 6, Boyar Value Group shared their thoughts on the recent stock market volatility, noting that the selloff was likely driven by many different investor concerns: inflation, interest rates, the war in Ukraine, supply chain disruptions, and an economic slowdown in China. Unfortunately, with these factors still in play, the stock market (using the S&P 500 as a reference) has since declined by a further ~11%. As Jonathan Boyar affirms, "we've officially entered a bear market, defined as a drop of 20% or more from the previous peak."
Amid the daily parade of frightening headlines, it's anyone's guess what will make stocks recover from here. But through all the uncertainty, we're keeping in mind Warren Buffett's observation that "[t]he future is never clear; you pay a very high price in the stock market for a cheery consensus. Uncertainty actually is the friend of the buyer of long-term values."
The near term will likely be bumpy, but the CEO of Boyar Value Group is optimistic about the future. In fact, now is when investors should be thinking about increasing their equity exposure: historically, the best time to invest is when you feel the worst. Even highly experienced and successful investors find taking this plunge difficult, particularly when prices keep falling, but buying great businesses at marked-down prices and holding them for the long term is historically how the best returns are made.
Although bear markets can be painful, they shouldn't prompt investors to sell. Decade after decade, investors have been best served by holding their positions in high-quality companies, and they've been even better served if they have the funds (and stomach) to buy more—after all, the timing of market rebounds is nothing if not unpredictable. As the following graphic shows, since 1957, the median market return (again, measured against the S&P 500) has been positive 1 month, 3 months, 6 months, and 1 year after officially entering bear market territory. Certainly, in some years stocks have been down during those time frames, but that's been the exception, not the rule.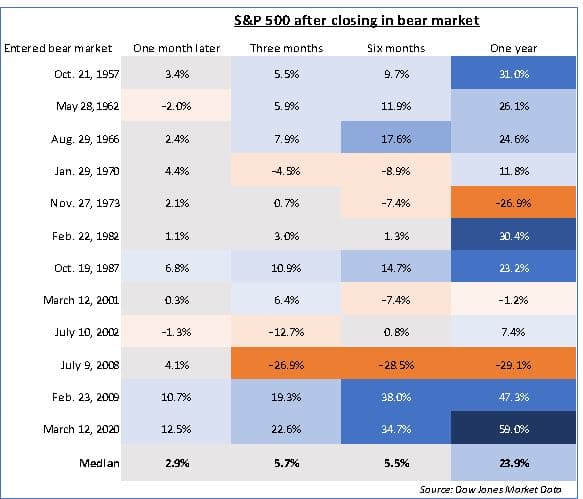 Boyar Value Group still believe that investors should stay the course. "We haven't decreased our equity exposure in The MAPFRE US Forgotten Value Fund (when you do not take into account inflows), and we don't plan to; instead, we like to take advantage of these moments of market dislocations to increase our equity holdings. We're pained at the thought of losing money for our clients, but we see this year's losses thus far as "paper losses," not as a permanent loss of capital. After all, the price of a stock on any given day is simply what people are willing to pay for a business at that moment. But we believe that over the long term, either the stock market will come to reflect the business's true value or an acquirer will purchase it for its true worth. We have no reason to believe that this time will be any different."
Unfortunately, today's stock prices are being driven by panic over macroeconomic headlines, not by underlying business fundamentals. Wall Street has historically overreacted to economic data, whether positive or negative, prompting economist Paul Samuelson to famously observe that "the stock market has predicted nine out of the last five economic recessions." The stock market hates uncertainty more than anything else, and right now we're knee-deep in it. How long before we'll find solid ground is anyone's guess.
Reasons for Optimism
But the situation isn't all doom and gloom. The U.S. banking system hasn't been this strong in decades, unemployment is at historic lows, and consumer balance sheets have been bolstered by recent government stimulus programs (though the savings rate has recently declined, and credit card balances have increased significantly—developments we'll be keeping a close eye on). A recession is certainly possible, but these factors should help mitigate its effects.
Equally important, investor sentiment is at multiyear lows, with consumer confidence even lower than after the September 11 attacks, during the 2008–2009 financial crisis, and during the coronavirus lockdowns. Both these markers have historically been great contraindicators for future stock market returns. Consumer confidence might well go lower from here, but it's worth noting that —according to JP Morgan, the average 12-month return of the S&P 500 after the eight consumer sentiment troughs since 1971 was 24.9%: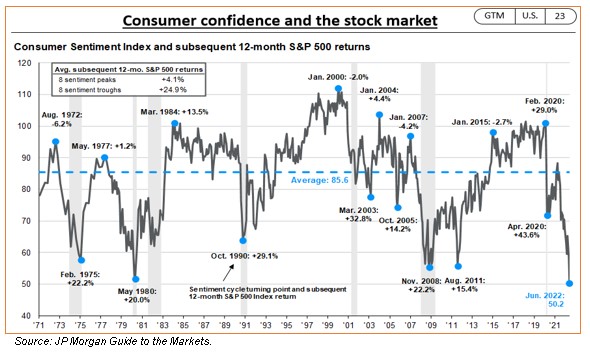 Finally, and most important, the stocks from The MAPFRE US Forgotten Value Fund are quite inexpensive—and the best predictor of future stock market returns is valuation. In times like these, putting things into their proper perspective is essential. Today's headlines are alarming, but they pale in comparison with those seen during 2008–2009, when people thought the global financial system was on the brink of actual collapse. Likewise, in 2020, when the coronavirus drove the economy off a cliff in mere months, investors feared for their physical health, not just their financial health. Even so, staying the course was the right move in both cases, and it seems there is no reason this time should be any different.