The asset management industry is increasingly egalitarian
This Wednesday, being March 8, is International Women's Day. The purpose of the event is to continue reducing gender differences and achieving a much more egalitarian world, which applies equally to the world of investment and finance. In the asset management industry, the topics to address include recognizing the work of professionals, reducing the pay gap and improving work-life balance.
María Torres de Becerril, equity portfolio manager at MAPFRE AM, explains that the main challenge is to "promote effective equality between men and women, guaranteeing their professional development in terms of equal rights, responsibilities and opportunities." She also points out that great strides have been made in recent years and that firms are starting to make the most of the female talent available in the industry and reduce the pay gap, as well as increasing the number of women in management positions.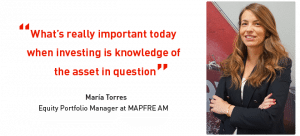 "Talent has to be the benchmark in all areas," says Torres. "To make that happen, we need to consolidate work environments where the talent available in the organization is leveraged, retained and rewarded, regardless of gender."
The percentage of women investors is usually far behind that of men, falling below 25 percent on some investment platforms. A study by BNY Mellon Investment Management revealed that if women invested at the same pace as men, there would be at least 41 billion dollars (38.56 billion euros) more in assets managed by private investors today.
Advancing work-life balance and flexibility policies would be one way to increase the number of female investors, according to Cristina Benito Ayuso, director of equity investments at MAPFRE AM.
Nicole Sophie Gómez Adenis, equity and multiasset manager, adds that the challenges in this industry are similar to the ones others face, although she emphasizes the reduction of some biases and the recognition of the equal contributions made by men and women. Initiatives such as ClosinGap, a cluster of 11 companies in Spain that analyzes the economic impact caused by women not having the same opportunities as men in areas such as pensions, consumption, employment and education, and which MAPFRE is a member of, have come about not only to promote equal opportunities in employment for men and women, but also to do so from the perspective that making this a reality facilitates adequate work-life balance.
For her part, Carmen Mondéjar Santiago, head of fixed income investments at MAPFRE AM, adds that for many people, investing is something of a hobby and that investment decisions are made during people's free time, so she believes it's important to study priorities between the sexes, in order to determine if the lower percentage of women investors is due to differing priorities.
Do women have a lower risk appetite?
In recent years, studies have been published indicating that women have a lower appetite for risk, as well as little confidence in their decisions in this regard. For example, the BNY Mellon Investment Management report concludes that only 23 percent of Spanish women feel comfortable investing part of their money.
Torres explains that, generally speaking, women tend to opt for a "more conservative" profile when investing through savings products, opting for long-term strategies, while men assume a higher risk profile, showing a preference for investing in stocks and other products that are more volatile. Men are also more likely to pursue shorter-term returns.
"This situation is changing and what's really important today when investing is knowledge of the asset in question. Investors must use their own judgment to decide whether or not that investment will be profitable in the future," she said.
Benito emphasizes that what makes the difference in terms of the profitability of investments is "the analysis of the asset that is being invested in, knowledge and tracking of the market and the investment process applied." "Talent, professionalism and rigor in the application of the investment process are the differentiating factors in terms of success and greater profitability with investments," she said. Mondéjar agrees, insisting that the difference is more marked by the time horizon of investment and risk aversion than by other factors.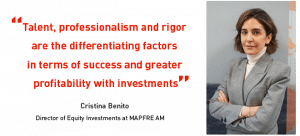 However, the gender gap affects the amount of money that women have available to save and invest. "The disparity in investments between men and women is highly related to the money available to allocate to savings, and obviously, with noticeable pay gaps still to be addressed, this gap is measurable. As a society, we still have a long way to go to reduce gender gaps and ensure that the work done by women is equally valued, "says Gómez.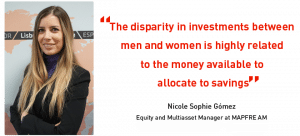 An uncertain investment environment
Investors are now facing an uncertain macroeconomic environment, marked by inflation and the consequent rise in interest rates, forcing them to readjust their strategies and positioning. Mondéjar explains that this more complicated current environment translates into greater volatility in the markets, which tend to overreact, both downwards and upwards, with the publication of macroeconomic, consumer confidence and price level data.
"In the space of just a few weeks, the market goes from talking about a 'central bank pivot', focusing on the risks of a slowdown or recession in economies after very rapid and pronounced increases in intervention rates (more so in the US than the eurozone), to a 'higher for longer' script, especially in Europe, where underlying inflation hasn't shown signs of having peaked," she explained.
MAPFRE AM's head of fixed income investments believes that the debate on "prices vs. growth" will continue to characterize market movements, in addition to the fact that a rapidly falling inflation scenario is increasingly complicated, as Gómez points out.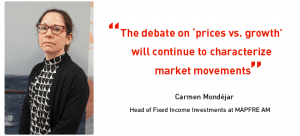 "We believe that the market is discounting that inflation will remain high, so for a few weeks now we have a cautious position with regard to asset prices, despite what seems to be a stronger economic outlook than expected," adds the manager.
MAPFRE for effective gender equality
At MAPFRE, we promote real equality of rights, responsibilities and opportunities for women and men. Committed to diversity and talent without labels of any kind, we do what needs to be done to contribute to leveraging all the talent available across our organization and to eliminating any instances of inequality detected.
MAPFRE is part of the Bloomberg Gender-Equality Index (GEI), which brings together leading companies from around the world that stand out for their promotion of equality and for their transparency in gender-related information. MAPFRE is the only Spanish insurance company present in the index and currently occupies position 69 in the global ranking.
Three years ago, MAPFRE also signed up to the UN Women's Empowerment Principles, the United Nations organization dedicated to promoting gender equality and women's empowerment, to which a total of 7,469 companies worldwide currently belong.